The May 27, 2023 in
Gift2Gamers News
Get the most out of your game and truly immerse in your alternate reality with these 5 must-have gaming merchandise for every gamer.
By
Nathalie

Gaming is more than finishing quests, defeating rivals, and collecting treasures. The journey through different worlds and the rawness of the competitive spirit is what makes gaming really addictive. 
Experience your video game how it was always meant to be experienced. A good gaming setup and a space conducive for the ultimate immersion is key. 
If you don't know where to start or on a budget and want to prioritize, here are our top 5 must have gaming merchandise for every gamer.


And let's start off with not including your main equipment: PC/Console. If you're looking at this article, that means you already have one. We'll go through other popular gaming merchandise which help elevate your experience.
---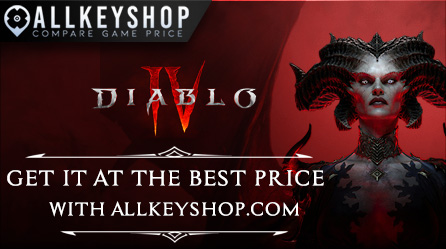 GAMING CHAIR
---
Playing for hours on end just isn't possible with an uncomfortable gaming chair. And just because it sports the racer car gaming chair look, does not mean it is a good gaming chair. There is a lot of thought that goes into making these. Whether you're pro, semi-pro, or a casual gamer, there is no dispute that you spend long hours, maybe even the majority of the day in this chair so comfort is a must.
The market is filled with good ones but our pick for the best gaming chair is still Secretlab Titan Evo 2022. And it isn't because of how much you can customize this chair with different skins but it's definitely a big plus. What makes this an incredible piece and a gamer must-have merchandise is what it can do for every gamer. 
First, they have 3 sizes so you will never have to feel that the chair was meant to sit someone else. Second, the magnetic memory foam always keeps the look clean without those extra garters and it can be adjusted over a wide range to fully cater to your neck needs. Third, the swappable magnetic armrest tops that sits on an adjustable armrest. Fourth, customizable casters so you can choose which is better for you. Fifth and probably the best feature is how they designed their fully adjustable ergonomic lumbar support system. Unlike other lumbar support systems, this one really conformes to your spine with the interconnecting hinges that flex with your movement. And lastly, its 165 degrees recline making it the perfect chair for gaming with propped up monitors or relaxing in between plays.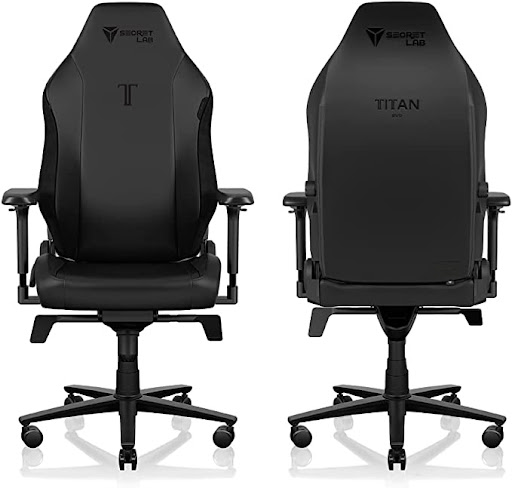 Buy Secretlab Titan Evo 2022 at Best Price on Amazon
---
GAMING SMART LIGHTS
---
Regardless if you have a small monitor or a huge multi-screen layout, we can all agree that lights play a huge part in bringing your game into life. Lights do not only make your room look cool but it also bridges your gaming world to your reality. It creates the ambience where you feel like you're really and truly part of the game. 
There are plenty of smart lights in the market that fit every gamers budget. But since we're doing must-have gaming merchandise, let's go up a notch with our top gaming light: Philips Hue Play Gradient Lightstrip.
It does come at a hefty price but with the experience you're going to have, you'll soon forget how much it is. This LED strip light is fitted into adhesive brackets which you then stick at the back of your monitor. It comes in different sizes so don't worry if your monitor is a 24" PC or a 75" TV. The best feature of this gaming smart lightstrips is that you do not need to control it with your phone or decide on one color scheme for your entire gameplay. Instead, it reacts to whatever you have on the screen! Now, that is immersion.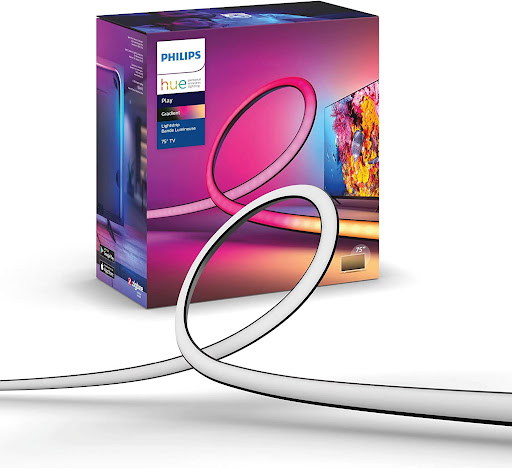 Buy  Philips Hue Play Gradient at Best Price on Amazon
---
GAMING AUDIO
---
Video game immersion is not just in the visual aspect. In fact, a big part of it is the audio. You can be hidden in a dark spot of a room you haven't styled yet but with good crisp audio, you'll feel every bit as tuned in the game as if you were in a pumped up game room. 
Having a good gaming headset and speakers are top gamer products. However, buying both at the same time comes with a big price tag. So if you have a limited budget, we suggest starting off with the headset. A good quality multi platform gaming headset. You can go all out with the high end ones like Steelseries Arctis Nova Pro which is also considered one of, if not, the best gaming headset in the market now. It has a multi-system connection which allows you to smoothly swap from PC audio to console. It also has active noise cancellation, 360 degree spatial audio, AI powered noise-cancelling mic, dual audio stream, and an incredible 22-hour swappable battery!
Of course all of those features come at a cost. So if you're not looking at that price point, the best cheap gaming headset with all the right features is the Razer Blackshark V2. You get incredible audio and mic plus some customization options through its app without spending a fortune.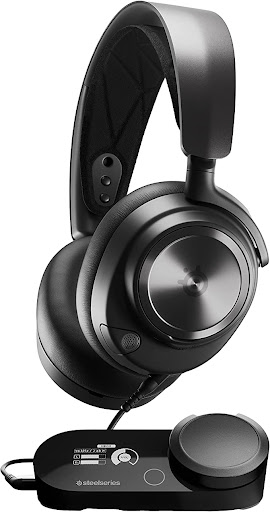 Buy Steelseries Arctis Nova Pro at Best Price on Amazon
---
MESH WIFI ROUTERS
---
Playing games online would not be possible and enjoyable with an unstable internet connection. That's just common sense. Even a momentary lag can ruin any gamers mood and play. A good set of mesh wifi routers should be a top priority for your gaming essentials. 
Say goodbye to dead spots and the annoying buffering with this top choice for gaming mesh routers, the Eero 6 dual band mesh wifi 6 system. This one has a total of 6 ethernet ports (2 on each router) for your fixed devices, it can connect to more than 75 devices, and has a built in Zigbee technology which allows you to connect and control compatible devices in your entire home. 
Seems like the perfect router since it doubles as a smart home hub. You would never have to leave your SecretLab Titan Evo chair for mundane tasks again.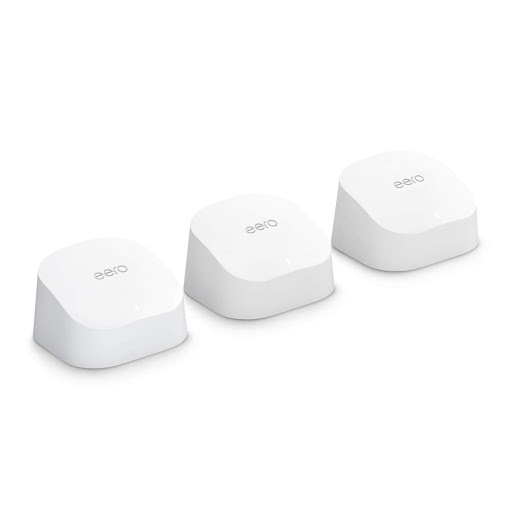 Buy Eero Mesh WIFI 6 Routers at Best Price on Amazon
---
GAMING GLASSES/BLUE LIGHT REDUCTION GLASSES
---
If you want to play video games longer in life, then you know health is a priority. Typical and casual gamers are not known to have a healthy diet and lifestyle. But if there's one thing they do think about in terms of health is that their eyes should be protected. This is especially important for those who wish to progress to esports as training hours, and physical and mental health is required. 
There are countless gaming glasses in the market that effectively reduce blue light with minimal to no color distortion. The top choice for gaming glasses for years now is still the J+S Vision Blue Light Shield Glasses.
These best gaming glasses have low distortion lenses which block 90% of the most harmful blue light and offers 100% UV protection.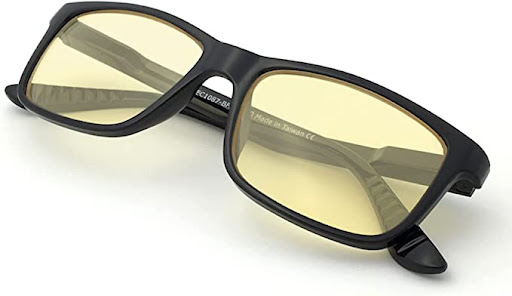 Buy J+S Vision Blue Light Shield Glasses at Best Price on Amazon
---
Where to find must have gaming merchandise for cheap?
---
The products on this list are top quality gaming merch that might not be within your budget. But don't worry, Gift2Gamers has thousands of merch that every gamer with different budgets can enjoy. 
Head on to our products sections and browse through different must-have gaming accessories, custom gaming merch, and perfect gifts for gamers at the best price!