The October 12, 2021 in
Gift2Gamers News
Updated: August 4, 2022
On a limited budget or not sure what gift to give a gamer? Gaming gift cards are always a sure bet. Find out here which is best!
By
Nathalie
Before going further, if you know everything about Gift Cards or Game Cards, don't loose your precious time and click here to find the best prices for the one you want on Allkeyshop : Best Gift Cards Offers
Are you on a budget and a hundred dollar gaming equipment out of the question? Or that's not a problem but then the lucky gamer just got himself a new console? You probably thought the next best thing, and a safe practical one, is a gaming gift card. However, choosing the best one requires more than picking it off the rack or adding to cart, especially if you are not a gamer yourself.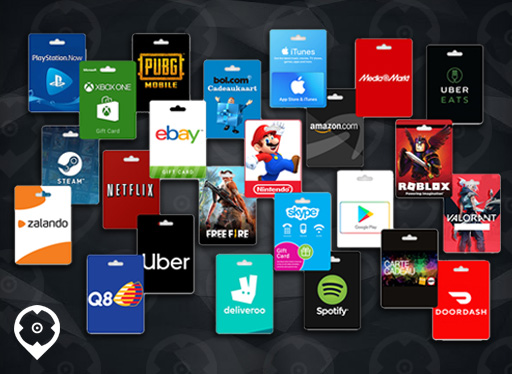 Gaming is a whole universe by itself. The game genre, the platform, the preference, and even age are major things to consider when buying the perfect gaming giftcard.
There are three major categories of gaming gift cards: Platform/Activation-specific, Game-specific, and Electronics gift cards. Let us look at the best ones under each category.
What are Platform/Activation-specific Gaming Gift Cards?
---
When opting for this one, you have to make sure you know which system the gamer is using. Although receiving a gift is always fun and heart-warming, it is definitely not as much if you gave a PS5 gamer an Xbox gift card. Since they won't be able to use it, you practically wasted money on that. Unless of course, the gift card came with an Xbox console. Now, that is a dream gift!
As the name says it, if the recipient plays on PS3, PS4, or the latest PlayStation model PS5, then this gift card is the one you want.
When you buy a PlayStation Store gift card, it gets redeemed on PSN (PlayStation Network). The value will be credited to the gamer's online wallet which can be used to purchase downloadable content like games, in-game features, and movies.
PlayStation Plus gift card, on the other hand, is the subscription that is required to play online and access multiplayer gaming.
---
If the gamer uses an Xbox console, then this is the gaming gift card you need. What makes this an excellent gift is that the Xbox gift card is redeemable through Xbox, Microsoft store online, and on Windows.
Once the value is credited to a Microsoft account, it can be used to purchase downloadable content like games, Xbox subscriptions, and apps in all Microsoft-supported systems.
If you are confused among the Xbox gift cards (Regular, Game Pass Ultimate or Live Gold) the regular gift card is a safe pick since it can be used to purchase the other ones online or through Xbox. The flexibility of this card is definitely a game changer.
---
You may be confused about the different characters on multiple Nintendo eShop gift cards. These are not specific to that character's game. In fact, a Nintendo eShop gift card is neither game- nor device-specific.
The card's value is redeemed through Nintendo.com or Nintendo eShop which can be used to purchase downloadable content for any device associated with the recipient's account.
The Nintendo Switch Online, on the other hand, is the platform's version of PS Plus. This is the online membership subscription which allows the user to play online with friends. This is available in multiple time plans (30 days, 90 days, etc.) and Individual or Family plans.
Getting the Family subscription definitely hits two (or multiple) birds with one stone. Give a gamer this gift card and you'll be loved by the whole family!
---
Steam gift cards are meant for PC gamers since the interface can be downloaded in Windows PC, MAC, and Linux based devices. This particular flexibility makes this an awesome gift!
The gift card is redeemed through Steam.com and is credited to the user's Steam Wallet. The balance can be used to purchase anything available in the platform's store.
---
An EA Gift Card is a gift card for EA Desktop or Origin. This gift cards are meant for PC gamers especially those who love Sports Games.
Redeem the code and score some awesome PC games including UFC, FIFA, Need for Speed, Madden NFL, and more!
---
What is a Game-specific Gift Cards
---
If you know for a fact that your recipient is addicted to a particular game, then a game-specific gift card is the perfect present. Yes, you can get them any of the gift cards in the previous list which they can use how ever they like, but this particular card shows a little extra thought to the gift. Plus, the game art brings additional excitement.
This gift card is the perfect gift for young gamers! Roblox is an online gaming platform which allows users to play games made by its users. Although that may have sounded alarming and not fit for young gamers, the online platform actually has an ESRB rating of E10+ (Everyone 10 and up) and PEGI 7+.
People are free to join the platform which can be enjoyed in multiple systems including Windows PC, Xbox One, and Amazon devices among others. The purchase of this gift card will be credited as Robux, the platform's currency, which can be used to buy in-game transactions like avatar accessories and upgrades.
---
This popular video game is a free to play one but if your recipient is heavily into it, a gift which tops up his Riot points will definitely make his day! The virtual currency can be used to unlock new champions, new skins, and many more.
---
---
The mentioned list of amazing gaming gift cards can definitely make any gamer's Christmas, birthday, graduation or whatever it is, extra special. However, if you are in a position where you do not know what console the recipient uses or what kind of game he or she likes, then there is still another option: the Electronics shop gift card.
This category includes Amazon Gift cards, Ebay Gift Cards, Netflix Gift Cards, Spotify Gift cards, Google Play Gift Cards, and even iTunes Gift Cards. These cards open up the options of what your recipient can do with the gift; from buying consoles to gaming equipment and accessories to video games, music, apps, and movies.
These gift cards may not have video game art on them which lets face it, gives the gift extra euphoria for gamers, but these companies put in the extra mile to show some celebratory spirit with their occasional birthday-themed or holiday-themed cards.
---
Do you want to up your game with gift giving? Check out the merchandise we have here in Allkeyshop Gift!