By Nathalie

With the success of both the video game and the HBO TV series of The Last of Us, there is no wonder why the market is flooded with its merchandise. From apparel to collectibles to even replica weapons and accessories from the game, you will surely find it in different online marketplaces.
Buying video game merchandise online can save you money and definitely a lot of time than going to a physical outlet. But this convenience comes at a price. 
Without holding the item in your hand and physically exchanging money for it has some risks. There are two things that can happen when you buy online: the merchandise gets damaged in transit or you get a low-quality item or even a totally different thing. 
The first one, we can't really do much about but the second, there are ways to avoid it.
So what are the things to consider before buying The Last of Us merch?
AUTHENTICITY
---
For official The Last of Us merch, the only way to make sure that what you are buying is authentic is by purchasing it from official stores. You can go to the Naughty Dog official website and head on to their Gear Store section or you can go straight to the PlayStation Gear Store and browse for The Last of Us items.
If you're looking for a cheaper deal from someone who just wants to get rid of their official merch, then you can check online forums like TLOU Reddit or online marketplaces like eBay. But before buying, ask for the original receipt from the shop. This way, you'll know that the item is not counterfeit.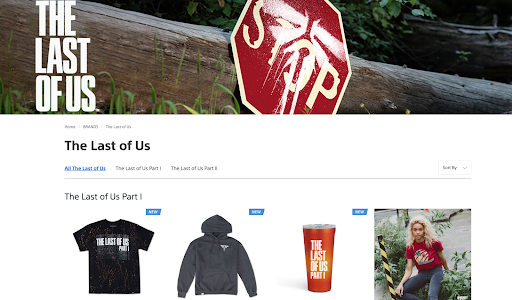 Buy Official The Last of Us Merch on PS Gear Store
---
QUALITY
---
You can zoom in all you want in the picture posted online but the truth is, you won't know what you're getting until it gets delivered. To ensure quality to the best of your capability, check the reviews or customer feedback on both the item and the seller.
Be cautious though of items that only have 5 star ratings with none or generic write ups. Read the review and even reply to some to check whether the item which previous consumers bought is still in good shape after some time. 
---
PRICE
---
Everyone wants a good deal. Unless it's a limited edition or a vintage video game merch, the cheapest price almost always wins the consumer. However, this way of buying things does not necessarily translate to a good deal. 
If the price is way too low from the market value, there's a reason for it. Could be damaged, fake, or stolen merchandise. So to avoid any hassle arising from these reasons, compare the price from other retailers or sellers. A fair price for a Last of Us merch is not ten folds less than the official retailer's price.
---
SIZE
---
One of the risks from buying online is the possibility of unsatisfactory fitting for apparel or unwanted sizes for collectibles. That's why make sure to read the product description carefully. 
If still skeptical, read on the reviews or better yet, message the seller for additional photos and to clarify if the specified size is in US or UK sizing.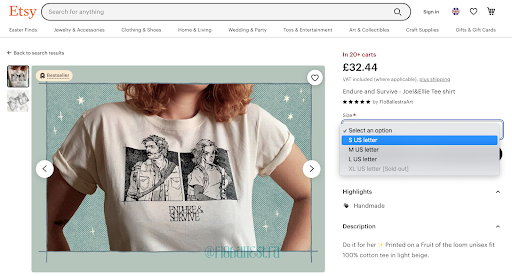 Buy The Last of Us Apparel at Best Price on Etsy
---
STORAGE AND DISPLAY
---
If you are purchasing collectibles or other items that will require specific storage or display, make sure you have the necessary space and equipment to keep them safe and secure. This is particularly for items that you intend to keep for a long time and wish to upsell in the future.
Pristine condition of not just the item but also the box it came with will go a long way in terms of resale value.
Now, you're ready to browse The Last of Us merchandise like apparel, accessories, collectibles, art prints, and more! Head on to our dedicated page for TLOU merch to get the best deal in the market.
---
Where to buy The Last of Us video game at the cheapest price?
---
Always on a look out for the best price on video games? Allkeyshop.com can get you exactly that!
Allkeyshop compares hundreds of prices of different video games in all platforms and in different editions. Not only is it arranged from the cheapest price to the highest, but also shows store ratings so you can buy The Last of US CD key as safely as possible.