The April 20, 2023 in
Gift2Gamers News
Looking to personalize your game room or advertise and grow your Twitch account? Make it happen with these unique and custom gaming merch.
  By Nathalie

Custom gaming merch is a popular trend among gamers these days, and designing your game room to showcase your favorite custom gaming merch is a great way to create a personalized and immersive gaming experience. And to mention, a good way to advertise during your stream.
Whether you're playing alone or with friends, a well-designed game room can make all the difference in how you feel while playing. It can help you get in the right mood for gaming and enhance your concentration.
Buying personalized gaming merch doesn't always have to be expensive. Here, we list affordable custom gaming merch that doesn't fall short in quality.
---
CUSTOM GAMERTAG LIGHT SIGN WITH STAND
Regardless if you stream or not, a custom gamertag light sign is always a great addition to your game room. Having this makes the space more personalized and an awesome way to advertise your brand.

This shop from Etsy offers every way to customize a gamertag: you can choose which social media logo to go with it or send your own logo, select if you want a usb or a wireless controller for the light and color (or request for a no light gamertag if you prefer), and pick the font and the shape of the tag. This product comes with a wooden stand and a usb connection adapter. What more can you ask for?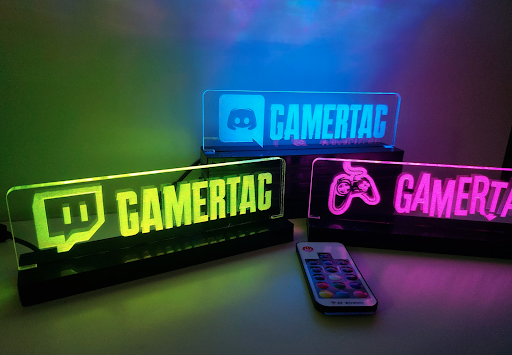 Buy Personalized Gamer Tag Light Sign at Best Price
---
LARGE CUSTOM GAMERTAG NEON LIGHT SIGN
Need a bigger sign or just not a fan of putting a lot of stuff on your desk? 
This large gamertag neon light sign is the perfect game room merch. Set the mood in your room and advertise your brand in your steam backdrop with this fully customizable large gamertag neon light sign. 
This merch comes in 8 sizes starting from 15 inches to as big as 50 inches. The shop also offers 22 different color combinations (on-off modes) and 7 ready pop fonts for you to choose from. No worries about the plug also! The shop allows you to decide if you want a US, EU, UK, or AU plug.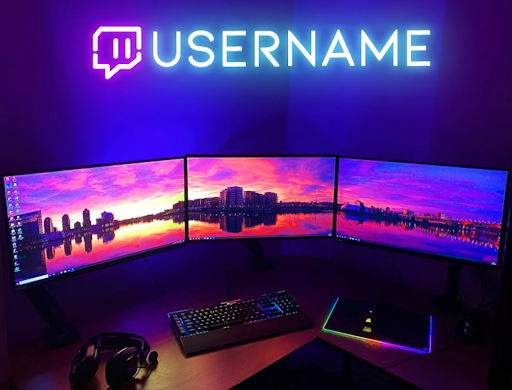 Buy Large Gamertag Neon Light Sign at Best Price
---
PERSONALIZED CONTROLLER AND HEADPHONE STAND
Don't let your expensive headphones and controllers just lying around. Organize with style with these personalized controller and headphone stand. This item is handmade from birch plywood which you can customize by laser engraving your logo or name. You can choose between black or light brown finish and pick if you want the engraving on top or bottom or in both places. Whatever the personalization is, it makes a great stand for your game room. 
Don't settle for boring stands – upgrade your setup with this custom gaming merch today. And since it's compatible with all controllers, it makes the perfect gift for gamers!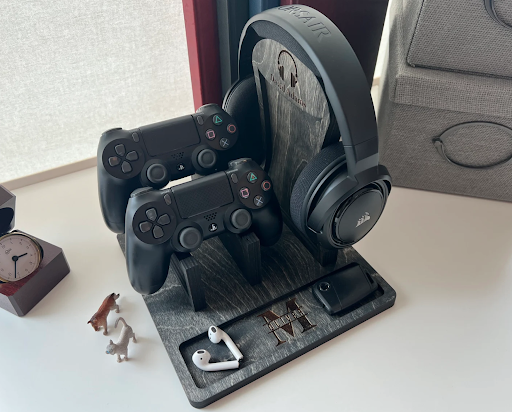 Buy Personalized Controller and Headphone Stand at Best Price
---
CUSTOM TWITCH CHANNEL HOODIE, SHIRT, SWEATSHIRT
The most practical and probably the most effective way to advertise your stream channel is through gaming apparel. Unlike the merch listed above, this one isn't constrained in the walls of your game room.
This shop from Etsy is one of the long list of shops that offer customization of gaming apparel. But in comparison to the others, the amount of options they offer is definitely noteworthy. They offer 9 different colors, 3 different styles (hoodie, shirt, or sweatshirt), and 8 different sizes with the biggest being a 5XL. You may also send the shop a message for further customization.
Buy Custom Twitch Channel Apparel at Best Price
---
CUSTOM TWITCH CHANNEL CAP
Whether you're into caps or just need a bit more subtlety than a hoodie or a shirt, then this custom Twitch channel name cap is the custom gaming merch you're looking for. 
With 16 different color combinations and high quality flat embroidery for your channel name, you'll definitely be happy with the outcome.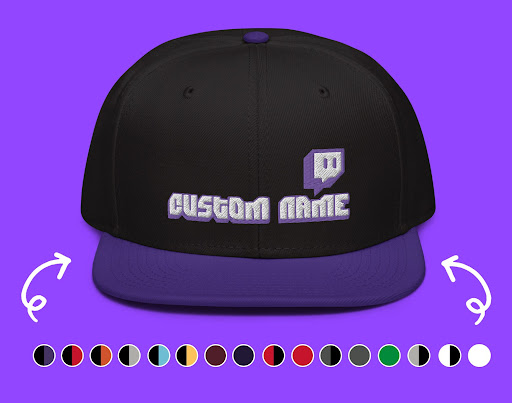 Buy Custom Twitch Channel Cap at Best Prices
---
A well-designed game room can improve your overall gaming experience. It can help create a more immersive environment that transports you into the game world. 
Whether you're playing a first-person shooter or RPGs, a customized game room with custom gaming merch can help you feel more connected to the game and enhance your experience.
Where to find unique and custom gaming merch?
Here in Gift2Gamers, we list thousands of gaming merch at best price including hundreds of customized items. Among the list are custom gaming apparel, gamertag lights, and personalized gaming accessories.