The July 14, 2023 in
Gift2Gamers News
Explore the top Baldur's Gate merchandise for an immersive Chapter 3 experience. Discover limited edition collector's items, art books, battle dioramas, and more. Pre-order now!
By
Nathalie

Whether you're a seasoned adventurer exploring the Forgotten Realms or a newcomer drawn to its captivating lore, there's no better way to appreciate and celebrate the release of Baldur's Gate 3 than by owning a piece of its merchandise.
With its immersive gameplay, stunning graphics, and captivating storyline, Baldur's Gate 3 will surely take the RPG world by storm. Regardless if you have the budget to fully customize your game room for the ultimate Baldur's Gate 3 experience or just want to have a piece of merch to show love to the developers, this list will take you to the right places to buy them.
Here's our top Baldur's Gate merchandise you can buy when playing the third chapter.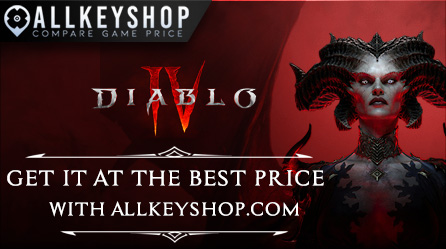 Baldur's Gate 3 T-Shirt
---
Probably the easiest purchase for anyone is apparel; t-shirts in particular. It's not an expensive item, it does not change anything permanent in your game room design, and it's a practical merch to own. 
Plus, wearing a Baldur's Gate t-shirt can spark conversations with fellow gamers and Baldur's Gate enthusiasts. It is a great icebreaker which helps you connect with others that share your love for the game. 
This particular shirt is offered in 19 different colors and in 8 different sizes ranging from small to 5XL. With that many options, there's definitely one for you!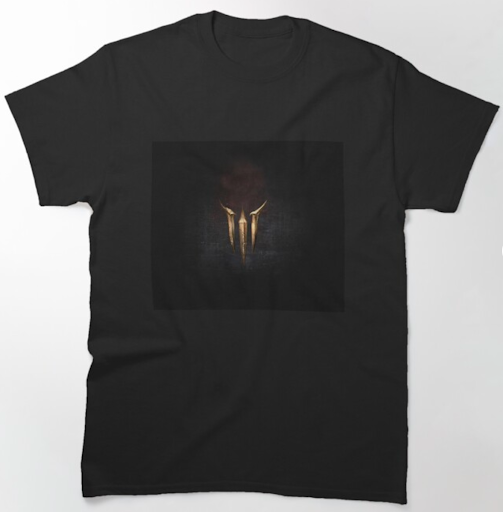 Buy Baldur's Gate 3 T-Shirt at Best Price from Redbubble
---
Baldur's Gate Pin and Magnet
---
Baldur's Gate pin and magnets allow you to personalize your belongings like backpacks, jackets, or refrigerator doors.  Compared to other gaming merchandise, pins and magnets are often more affordable unless of course you get limited edition ones or collector's items. But for the most part, they offer a budget-friendly option for fans to express their support without breaking the bank.
This particular item is handmade and you can choose whether you want it as a magnet or a double-clutch pin. It is made of soft enamel zinc alloy with a 3D bronze metal plating so wherever you decide to stick it on, it will look amazing!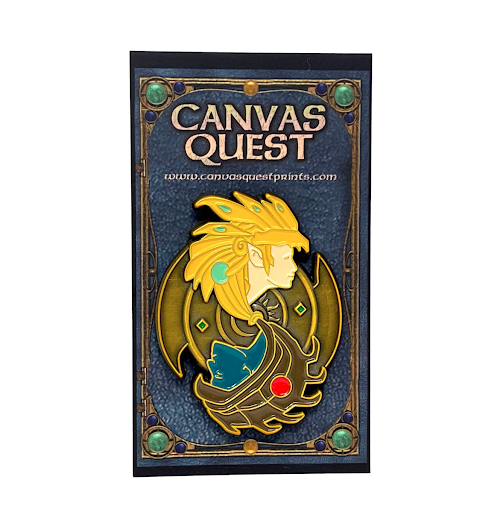 Buy Baldur's Gate Pin Magnet at Best Price from Etsy
---
Original Baldur's Gate Desk Mat
---
How cool is it to own an original Mike Sass Baldur's Gate artwork?! And since this is a collage of portraits he painted in 1998, you don't just get 1 artwork but many in one item! Also, it's not just something to hang on your wall. This Mike Sass art can be used as a desk mat or as an oversized mouse pad measuring at 24"x14" with fabric top and rubber backing.
Did we mention you can get it signed for free as well?! This really is a great Baldur's Gate merch to have or an awesome gift for a Baldur's Gate fan.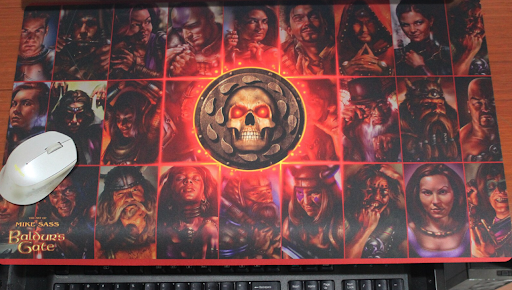 Buy Baldur's Gate Desk Mat at Best Price from Etsy
---
Baldur's Gate Coffee Mug
---
Coffee mugs are everyday items that serve a practical purpose. If you're a gamer who enjoys a hot beverage while gaming, a Baldur's Gate-themed coffee mug is a great merch for you. Not only will you have that hot cup of coffee within reach, but you'll also give your gaming desk that additional Baldur's Gate flair.
So if you enjoy the combination of practicality, personalization, and aesthetics that gaming coffee mugs offer, then this item is a worthwhile addition to your collection.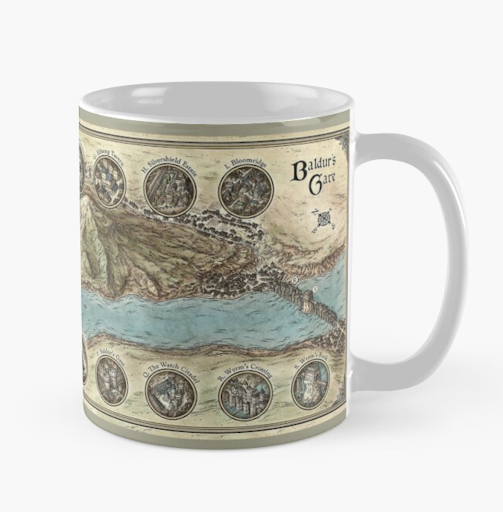 Buy Baldur's Gate Coffee Mug at Best Price from Redbubble
---
Baldur's Gate Map Poster
---
Not satisfied with a coffee cup? Then let's take the map on a bigger scale with this sizable Baldur's Gate Map. 
Posters are a great way to design a game room according to the game you're currently obsessing with. And with this one being a map, it's not only good for design but also informative when playing Baldur's Gate 3.
This particular Baldur's Gate poster is available in 3 different sizes with the biggest one measuring at 108.9 x 84.3 cm.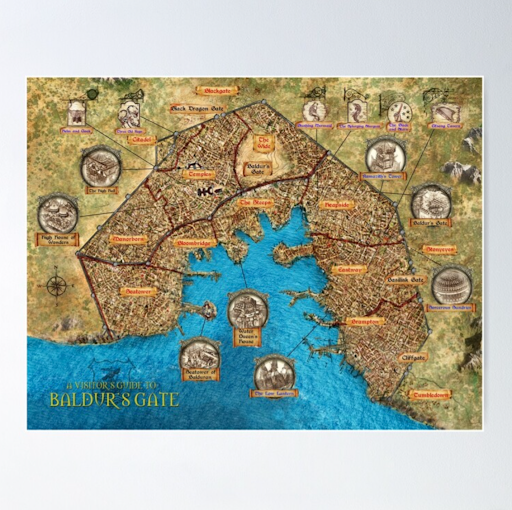 Buy Baldur's Gate Map Poster at Best Prices from Redbubble
---
Now if you want to bring the experience to a whole new level, casual gaming merch or collectibles might not do it. But upgrading your gaming gear and equipment surely will. Have a look at this article for our top 5 must-have gaming merchandise that will definitely take you to an unforgettable gaming experience while playing Bladur's Gate 3.
Where can I buy the best Baldur's Gate 3 merchandise?
---
Gift2Gamers lists hundreds of the best Baldur's Gate gaming merch at the best price including apparel, art prints, stickers, and accessories from different reputable websites. The prices we publish are always updated so you can have all the accurate information you need to buy the best Bladur's Gate gaming merch for your budget.
---
Where can I pre-order the Baldur's Gate 3 – Collector's Edition?
---
Bladur's Gate 3 is currently on early access with a full release date on August 3, 2023. Head on to Allkeyshop for Bladur's Gate 3 CD key lowest price so you don't miss out on the best deal in the market today! For pre-orders of Baldur's Gate 3 Collector's Edition for PC or Playstation, you may place your order now at the official Larian Merch Store.
---
Are the character sheets included in the Collector's Edition customizable?
---
Yes, the D&D-inspired origin character sheets included in the Collector's Edition allow you to customize your character's abilities and shape their unique journey.